What The Library Offers You
Members' Privileges. Each member of the Library in English may borrow six books at a time for a period of four weeks. All but the newest books can be renewed twice. You can reserve books from our entire collection and we welcome suggestions for new books to add to the Library.
Book Sales. The Library holds book sales twice a year in Spring and Autumn. The immense three-day Autumn Book Sale has become a fixture in the Geneva-area calendar
over more than three decades and is complemented by a three-day sale in the Spring. Thousands of second-hand books, donated by members and others, are sorted by subject for your convenience and reasonably priced. We gratefully accept donations of hardcover and paperback English-language books throughout the year.
Paperbacks and Magazines. Used paperbacks and magazines, donated by our members, are on sale all year long in the Library.
Children's Story Hour is held every Wednesday afternoon, 15:00-16:00 at the Library and is aimed at children from three to seven years old. You do not have to be member to attend and all are welcome.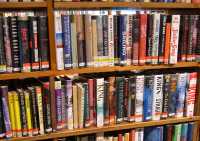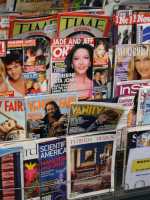 Around 12,000 books in English
American and British bestsellers
A large selection of quality books for children of all ages
New adult and junior books added each week
Children's story hour
Travel guides
Audio books on CD
Reference section with photocopier
Computerised catalogue
Large-print books
Are you or your family members on Facebook? If so, please help us to get connected to you and your friends. Go to our Facebook page and click "Like". We'll be able to keep you better informed about new books and coming events, and also let your friends know about what the Library has to offer.