Frequently Asked Questions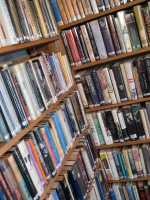 We purchase our new books direct from wholesale booksellers in the United Kingdom and the United States. We try to obtain the latest books as quickly as possible.

Only members may take books home, but our doors are always open to the community. So, come in and read the newspaper or news magazines, research a student project, or plan a vacation using our travel guides. The Library has a photocopier for your convenience.

Yes, we welcome everyone to Story Hour and it is free of charge.

Gladly! We will take donations of used books in English throughout the year. Our book sales are our biggest fundraisers and we appreciate every book.

We do not buy any used books, but we will gratefully accept any donations of books (see previous question).

You can donate to the Library through our postal account 12-11447-5. You can specify if you want your donation to go toward purchasing an adult or junior book. You can also donate by sending a gift certificate from your favourite internet bookseller. Our e-mail address is library@theLibrary.ch. All donations are used to purchase new books for the Library.